In my previous post, I presented how projects can
reduce costs with electronic submittals
. In the third of my three-part series on electronic
submittals
, I will look at how project managers can add value for owners with electronic submittals.
Leading companies in construction are moving toward Integrated Project Delivery, with the Building Information Model (BIM) at its heart. Contractors are adopting 3D BIM software for its multitude of benefits, including clash detection, scheduling, cost estimating, and material tracking and ordering. But the model has the potential to extend beyond the construction phase of the project and provide information to owners and facilities managers that can replace a room full of paper.
Building Information Models link the design database with building material properties. Information such as manufacturer details and product data, much of which is found in the project submittals, can be attached to objects in the design model. By providing submittals electronically, for example, the approved mix design for the concrete footings can be attached to the footing object in the model. The design model has the potential to hold all the information to the project in a single electronic resource.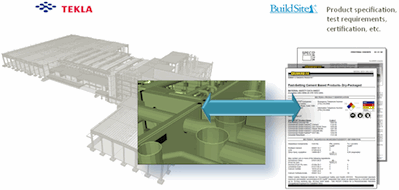 Tekla Structures' Building Information Models link the design database
with building material properties available at BuildSite.
At the end of the project, the owner gets a fully-digital 3D model of the finished building, rather than a room full of paper. Facilities managers do not need to comb through file cabinets of documents to find the warrantee they need. Instead, they can go to the electronic record and access product information from submittals that are attached to the model. From a building owner's perspective, an as-built electronic resource adds enormous value to a project over the alternative paper system.
In considering an electronic submittal process, business owners may have to push adoption of electronic systems by other members of the project team. Division I requirements may ask for a rubber stamp on a printed submittal. But there are now software tools available for creating submittals and tracking approvals, not to mention incorporating these into full-fledged project management and BIM. And the movement in construction, as with BIM and Integrated Project Delivery, is toward a seamless electronic documentation process.
In the future, construction data flows electronically from specification to submittals to project management and design. We may well see the demise of Banker's boxes and rubber stamps in construction. It's certainly worth working toward.
This is the third in a 3-part series on improving the submittals process with an electronic system. A similar article was published in the September 2011 issue of Construction Business Owner called How to Streamline Construction Submittals.